BRIGHT lamps and the nighttime readers of the Maasai Mara
Bright is happy to see how our solar lamps and home systems have been used in Oliveseed's projects that help to evolve some Maasai boys and girls into nocturnal creatures that hunt books, knowledge, and a poverty-free future.
Oliveseed Kenya Trust is a registered community-based nonprofit, which is working toward a holistic blend of educational enrichment, community empowerment, and sustainable development.
The stories by Oliveseed Kenya Trust show the hard work of the people of the Oliveseed Foundation, the determination of young people in Africa to leap from poverty to empowerment through learning, and the critical role of technology, including solar lighting products from BRIGHT to make literacy a reality.
Nighttime reading class in Manyatta Library
In the vast wildlife-rich landscape of the Maasai Mara in southwestern Kenya surprises at night are generally unwelcome if not terrifying encounters with the fierce creatures and weather that rule the dark. But Maasai entrepreneur Amos Kipeen and Oliveseed Foundation founder, Barbara Mackraz weren't thinking about hungry lions and hyenas as they walked through the late-night darkness of May 23rd 2022, getting to see the inside of the Manyatta library they had launched just days before.
In the village of Olochura, Oliveseed Kenya Trust had built this first ever library for a manyatta – a small Maasai settlement of a dozen or so earthen dwellings in record time. The daytime dedication had been attended by hundreds of people, parents, children, local officials, and even national media.
"It was thrilling to have celebrations like that during the launch day," Barbara explains. "We also needed to see the library after dark, with the gear we had installed."
Among the gear was a BRIGHT Home 600 solar-powered lighting unit mounted on the library roof. From a distance the library building was dark, but its windows glowed bright red from curtains made of Maasai fabrics. The building was lit from the inside and Barb and Amos could hear the quiet hum of murmuring voices. Every chair was taken, a teacher was supervising, and at least 20 boys and girls found space to read on the floor. Everyone had a book illuminated from above, the light bouncing up into their excited eyes, wide open and reading stories aloud.
"The deepest part of that experience was seeing how light opened a door to make the darkness a place of learning and fun. We didn't expect to see the library full of kids reading late at night, especially so soon after the opening!" Barb beams and Amos says, "We are already working on expanding the library for more students with more books, more chairs, more tables and of course more solar lights." There is no shortage of sunlight in the Maasai Mara.
Nelly and her SunBell Smart
The sun energizes a battery. A switch turns on a light. A little girl's smile is revealed as she grips her pen. On her face is an unstoppable force of nature, the power of learning. Her books are spread out before her including one that contains a story she wrote. In her smile is the light of her future illuminating the environment all around her. She is imagining a place for herself in this world. She is ready to work to hold that place.
This is another inspiring story from Oliveseed's work in Kenya. Apart from the Manyatta library, in 2020-2021, Oliveseed put solar lanterns, a student library, and a study encyclopedia in the homes of students from Mara Girls Leadership School, while the girls were home for 8 months during the covid lockdown. These were homes without power or light.
Here is the student Nelly, talking about the impact of having the lantern and books to read during that time and her aspirations for the future.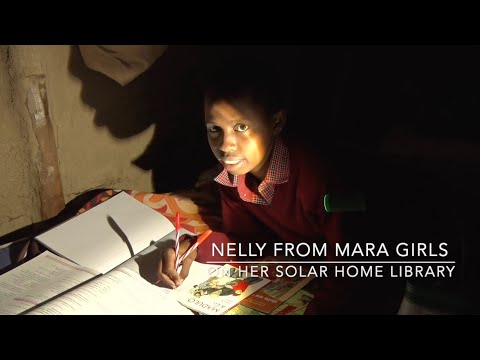 By studying diligently at night, Nelly went to the top of her class (she calls it "topping" in the video) and is now studying at one of the most advanced high schools in Kenya. Nelly is among these young children whose stories imbed hopeful themes of how they plan to save their world and then move on to help the rest of us.
Bright is happy and grateful for Oliveseed's trust to use BRIGHT lighting in their next library, water project, school building, and a new women's center to illuminate a place for making local crafts to be sold around the world.
Stories by Oliveseed