BRIGHT SunBell 80
Sunbell has been upgraded!
BRIGHT SunBell 80 is the latest version of SunBell 2.0 with, but with higher battery capacity, providing the same 8 key functions but with more light and charging capability. At the low setting, SunBell 80 can offer up to 180 hours of light.
Thanks to its multi-functional design, it can be used as a traditional lantern for reading and homework, a focused ceiling light, a hands-free light, a focused torch, or as an ambient light for the whole room. In addition to giving high-quality and homogeneous light, SunBell 80 can work as a mobile charger, allowing you to stay connected at all times. Altogether, our unique solar lantern and mobile phone charger is truly a high-performing and multifunctional product in its class!

2023 Sunbell Optimization – 21% reduced plastic!

Sunbell  has been upgraded, making it easier to repair, more durable and more sustainable. Improvements include:
New integrated power button – does not wear out or require repair

New porthole flaps for easier repair from the outside

Reduced size of cover on inside of the solar panel > reduced plastic and easier repair. 

Reduced plastic inside lamp shade

Changed to one type of plastic for easier recycling and reuse.
| Technical specifications | |
| --- | --- |
| Battery type | NMC |
| Battery capacity | 7.5 Wh (2,200 mAh at 3.7V) @ 90% DoD |
| Battery lifespan | 4+ years (1,500 charge cycles) |
| Charge time | Solar: 10+ hours, USB: 2 hours |
| Solar panel type | Monocrystalline |
| Solar panel output | 1.8 W ± 5% at 5V, Voc= 6.25V, Isc=0.350A |
| Solar panel cable | 4m retractable |
| Device charging | USB port (5V 500 mA) |
| Warranty | 2 years |
Test reports
Product manuals
Training manuals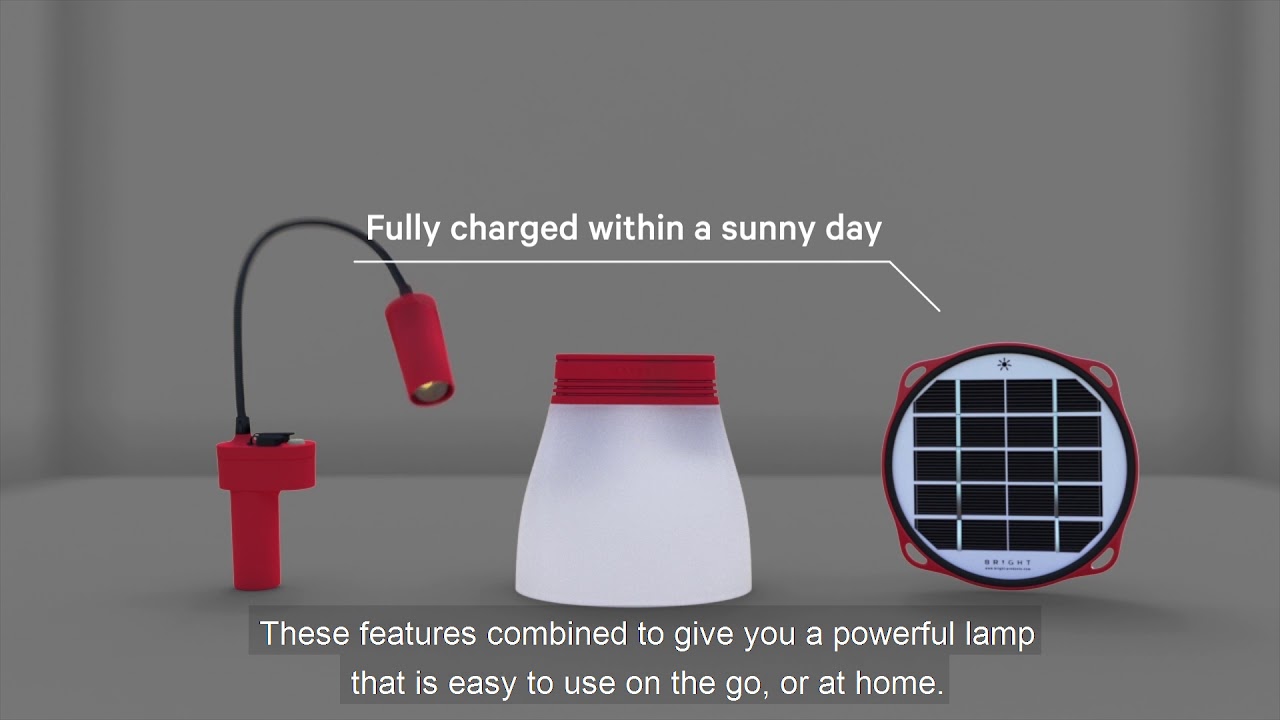 Madeleine Chapman Kjellevand
Head of Humanitarian Partnerships
E-mail: madeleine@bright-products.com
Lorena Muñoz Carmona
Partnership Manager
Email: lorena@bright-products.com